Rocking Around The Christmas Tree
4th Dec 2018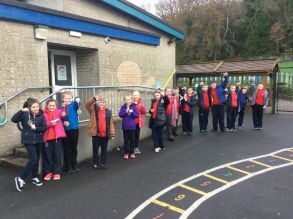 DPS took part in a special Shared Education project organised by Damien Devine from Dennett Interchange. Primary four and five pupils from DPS, St Patrick's, Lough Ash, Altishane and St Joseph's were given a special piece of wood which had to be decorated. The decorated piece would then be hung on Donemana's amazing Christmas tree.
DPS congregated with St Patrick's PS this afternoon to hang up their decorations and to sing a few carols. There were two very kind elves from Dennett Interchange who had a beautiful piece of chocolate for each child.
If you are passing the tree in the village remember to keep an eye out for the special decorations.
Thanks must go to Damien and the Dennett Interchange for organising such a wonderful project.
Donemana Primary School, 31 Longland Road, Donemana, Co Tyrone, BT82 0PH | Phone: (028) 7139 8633 | Email: ghay546@c2kni.net